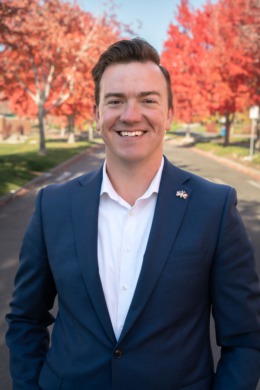 Hi! I'm Evan and I'm glad you're here.

I can't think of a better place for me and my family, than the beautiful PNW! I have a deep love for the outdoors and enjoy spending time with my pup out on the trails, visiting local breweries, camping in the summer, snowboarding in the winter, and the occasional dance party in the kitchen, while cooking dinner with my fiancé Kendra.

From the breathtaking mountains, abundant rivers, and easy access to the woods, the Wenatchee Valley really has it all!

Before getting into real estate, I served as a United States Marine, on Marine Corps Base Hawaii, on the island of Oahu. While on active duty, I was stationed all across the country, and deployed to the Japanese island of Okinawa, where I supported the Huey / Cobra helicopter operations, as an avionics technician on the 31st MEU.

After the Marines, I've worked in a variety of industries from lumber sales, to medical device sales, and even did a bit of work in software sales. All the while, managing a few rental properties on the side.

This vast array of experiences has led me to be very aware of the needs of various clients, and proactively anticipate their needs to ensure an easy and ideal experience.

My experience as a salesman in a variety of industries, coupled with my time as a Marine has made me a master negotiator and a disciplined asset to any team.

It'd be my pleasure to be your House Hunting Specialist, and team up with you to find the perfect home, at a great price for you and yours.