3 Bedroom Houses for Sale in Chelan
If you're considering buying a 3-bedroom house in Chelan, get ready to embrace a delightful and fulfilling living experience in this charming lakeside town. Chelan offers a selection of lovely 3-bedroom properties, providing ample space for families or individuals seeking room for various purposes. From elegant homes with modern designs to cozy cottages with breathtaking lake views, Chelan's real estate market caters to diverse preferences. Beyond the allure of a 3-bedroom house, living in Chelan presents an array of outdoor activities, convenience, and a high quality of life.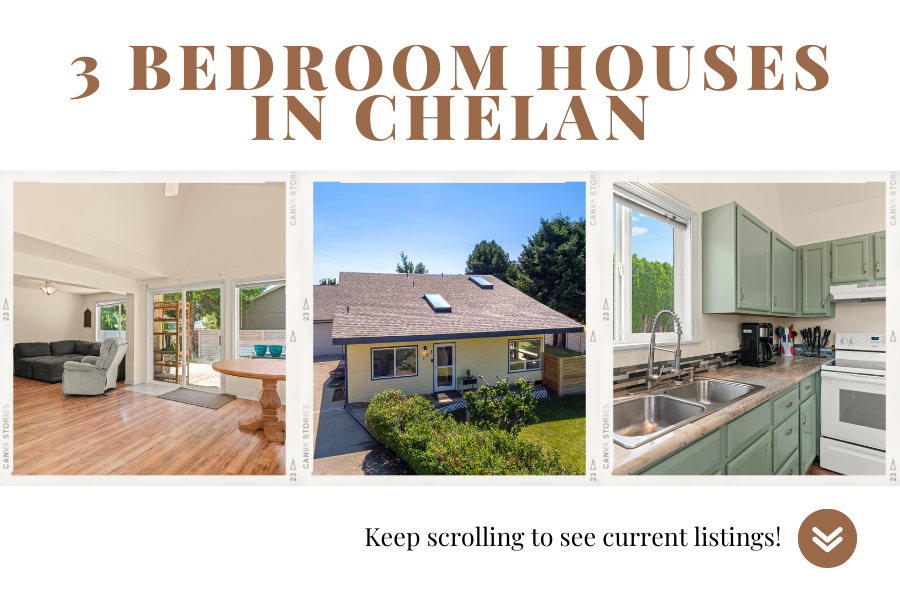 Chelan's picturesque setting, nestled amidst the sparkling waters of Lake Chelan, invites residents to enjoy a myriad of water-based activities. From swimming and boating to paddleboarding and fishing, living in Chelan offers immediate access to a world of aquatic fun and relaxation. The region's stunning landscapes also invite residents to explore hiking trails, go camping, and indulge in wine tasting at nearby vineyards. Chelan's small-town charm, friendly community, and lively events add to the vibrant atmosphere, making it an ideal place to call home.
Living in a 3-bedroom house in Chelan brings the convenience of versatile living combined with the comfort of a spacious home. With three bedrooms, homeowners have the flexibility to accommodate guests, create dedicated workspaces, or have a play area for children. The convenience of a 3-bedroom home ensures that you can enjoy comfortable living and have the space to pursue your interests and hobbies. Chelan's welcoming ambiance, essential amenities, and proximity to lakeside activities contribute to a high quality of life for residents. Whether you seek a dynamic lifestyle with water adventures or a serene escape in a picturesque setting, life in a 3-bedroom house in Chelan offers the perfect blend of convenience, versatility, and the joy of living amidst natural beauty and lakeside living.
See these 3-bedroom houses in Chelan
September 30, 2023