4 Bedroom Houses in Leavenworth
Buying a 4-bedroom home in Leavenworth can be a fantastic choice for several reasons. Firstly, the extra bedrooms provide ample space for a variety of purposes. Whether it's for a larger family, hosting guests, or creating dedicated workspaces, having four bedrooms offers versatility and flexibility. The additional rooms can be utilized as home offices, playrooms, or hobby spaces, providing the opportunity for customization and catering to specific needs. The spacious layout ensures comfort and convenience for both residents and visitors, making it an ideal choice for those seeking a comfortable and accommodating living environment.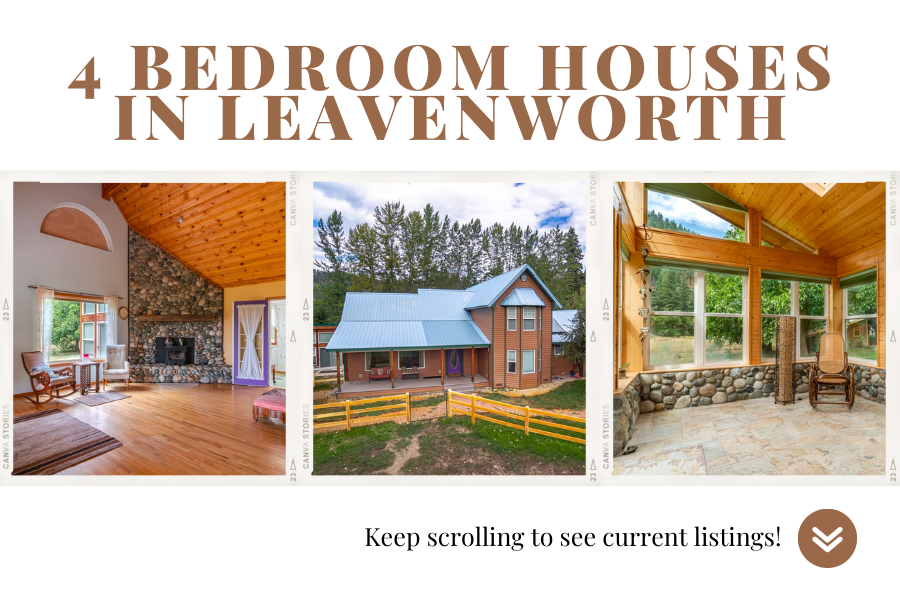 Furthermore, purchasing a 4-bedroom home in Leavenworth can be a wise investment. The charming and picturesque nature of Leavenworth, with its Bavarian-inspired architecture and stunning mountain scenery, makes it an attractive destination for residents and visitors alike. As a result, the demand for larger homes, including 4-bedroom properties, tends to be strong. This demand can contribute to potential appreciation in property value over time. Additionally, a 4-bedroom home in Leavenworth may have the potential for generating rental income. With its spacious layout and desirable location, it can be an appealing option for vacation rentals or accommodating groups of visitors, providing an opportunity for supplementary income.
Here are 4 Bedroom Homes in Leavenworth
September 30, 2023
$1,199,000
Med. List Price