5 Bedroom Houses For Sale in Wenatche
If you're in the market for a spacious 5-bedroom house near Wenatchee, Washington, you'll find a variety of real estate options to suit your needs. The area offers a range of properties, from modern homes in newly developed neighborhoods to charming older houses with character. Many of these houses come with generous lot sizes, allowing for ample outdoor space and potential for gardening or recreation. Whether you prefer a contemporary design or a more traditional style, you can find 5-bedroom houses in Wenatchee that cater to different tastes and preferences. The real estate market in the area is diverse and vibrant, offering potential buyers plenty of choices to explore.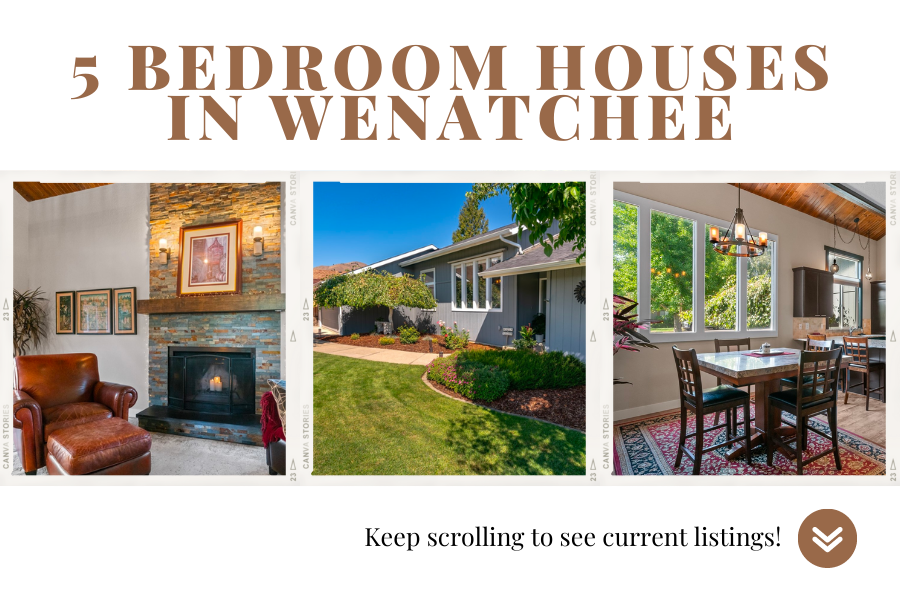 Wenatchee boasts a variety of neighborhoods that provide convenient access to amenities, schools, and recreational facilities. The city has experienced growth in recent years, and this has led to the development of new residential areas. These neighborhoods often feature modern, energy-efficient homes with open floor plans, spacious kitchens, and multiple bathrooms. Additionally, there are established neighborhoods with older homes that have been well-maintained and offer unique architectural details. Whether you're a growing family or someone who needs the extra space for a home office or hobby room, the real estate options for 5-bedroom houses in Wenatchee provide a wide range of possibilities to accommodate your lifestyle.
We are here to help you search for the perfect fit, call us today! 509-726-5532
5 Bedroom homes near Wenatchee Wa
September 30, 2023