Houses for Sale in Leavenworth with Pool
Purchasing a house with a pool in Leavenworth brings numerous benefits. Firstly, it offers a luxurious and refreshing way to enjoy the warm climate of the area. With a private pool, residents can cool off, relax, and entertain right in their own backyard. Whether it's swimming, sunbathing, or hosting poolside gatherings, a pool adds an element of luxury and leisure to daily life. It provides a convenient escape from the heat and creates a delightful space for relaxation and recreation.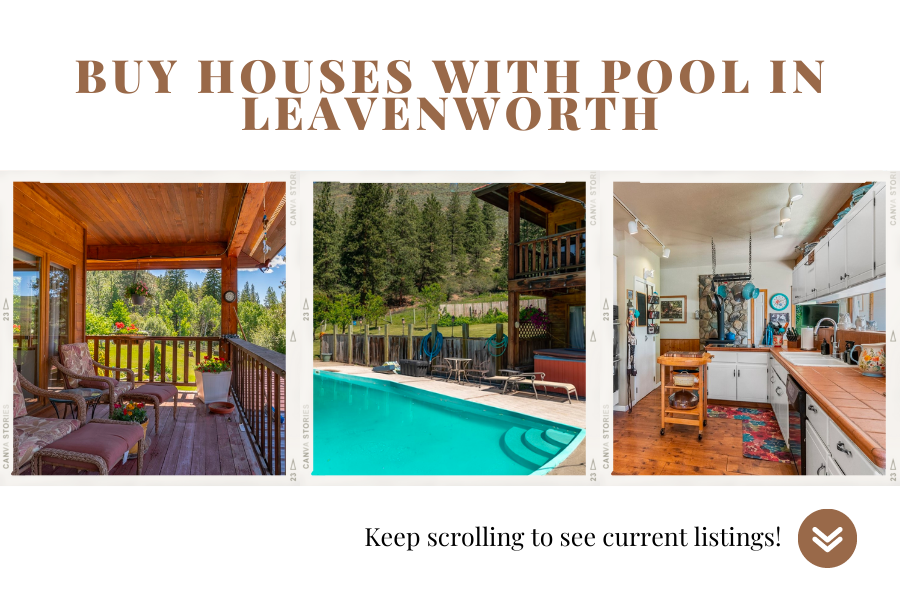 Secondly, houses with pools in Leavenworth tend to be highly sought after in the real estate market. A property with a pool has increased appeal and can stand out among potential buyers. The pool becomes an attractive feature that adds value to the home and enhances its overall desirability. As a result, owning a house with a pool can potentially yield a higher resale value and provide a solid return on investment. It offers both personal enjoyment and the potential for long-term financial gains.
See homes with pool in Leavenworth
September 30, 2023
$2,695,000
Med. List Price
Spectacular Property with fully transferable STR permit. Six primary suites, New in ground swimming pool, Great room accommodates huge gatherings, New Standing Seam metal roof, NEWLY remodeled...