Discover the epitome of lakeside living with our exquisite selection of waterfront real estate in the stunning Lake Chelan region. Nestled in the heart of nature's splendor, Lake Chelan offers a captivating blend of pristine waters, majestic mountains, and picturesque landscapes.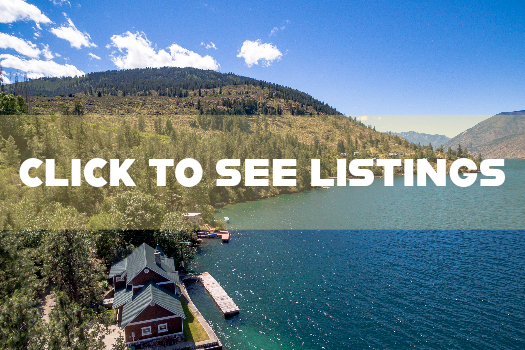 Our collection of waterfront properties encompasses a range of architectural styles, from charming cottages to luxurious estates, ensuring there's a perfect match for every discerning buyer. Immerse yourself in the tranquility of lakeside living and indulge in the abundance of recreational activities this remarkable destination has to offer.
See the Current Listings LAKE CHELAN WATERFRONT
Features:
Unparalleled Views: Wake up to breathtaking panoramic views of Lake Chelan, where crystal-clear waters glisten under the warm sun. Each property is strategically positioned to maximize the stunning vistas, allowing you to savor the beauty of the surrounding nature from the comfort of your own home.

Private Access to the Lake: Experience the ultimate waterfront lifestyle with direct access to the pristine shores of Lake Chelan. Dip your toes in the refreshing water, embark on exhilarating boating adventures, or simply bask in the serenity of the waterfront environment. Enjoy an exclusive retreat right at your doorstep.

Thoughtful Design and Luxury Amenities: Our waterfront properties are meticulously designed with a focus on luxury and comfort. Experience the finest craftsmanship, high-end finishes, and state-of-the-art amenities that redefine modern living. Spacious decks, private docks, gourmet kitchens, and elegant master suites are just a glimpse of the lavish features these properties have to offer.

Outdoor Paradise: Lake Chelan is a playground for outdoor enthusiasts. Indulge in a myriad of recreational activities such as fishing, water sports, hiking, golfing, and vineyard tours. Immerse yourself in the region's natural wonders and create unforgettable memories amidst the pristine wilderness.

Vibrant Community: Lake Chelan boasts a vibrant and welcoming community that embraces the joys of lakeside living. Engage in local events, connect with like-minded individuals, and forge lasting friendships. Experience the warmth and charm of a close-knit community that values the beauty and tranquility of this remarkable destination.

Proximity to Amenities: While nestled in nature's embrace, Lake Chelan waterfront properties offer convenient access to essential amenities. Explore the charming downtown area, featuring boutique shops, acclaimed restaurants, and vibrant entertainment options. Rejuvenate at local spas or indulge in the region's renowned wineries, offering a delectable selection of wines.
Whether you're seeking a serene retreat, a second home, or a year-round residence, Lake Chelan Waterfront Property provides a gateway to an unparalleled lifestyle. Let us assist you in finding your dream waterfront oasis, where the harmony of nature and luxury converge. Contact us today to embark on a journey of lakeside living that exceeds all expectations.