Our Buyer's Step by Step Guide is designed to provide you with a clear roadmap to navigate the home buying process with confidence. From setting your budget to closing the deal, our comprehensive guide offers valuable insights and expert advice to help you make informed decisions and find your dream home.
---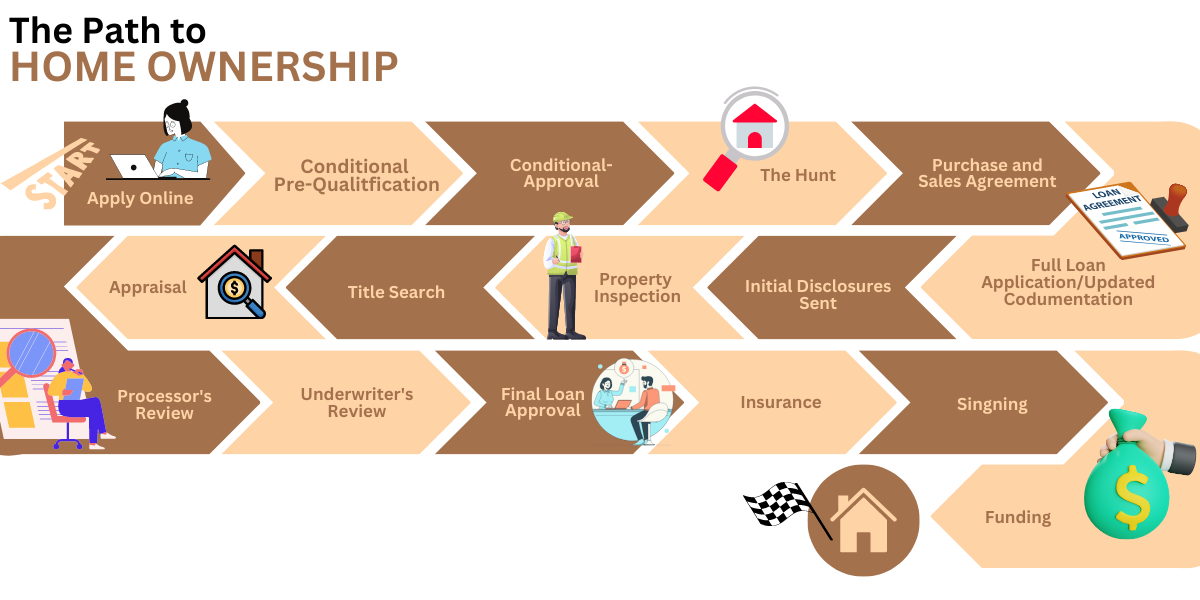 How Does Home Buying Work?
Owning real estate offers not only the comfort of having a place to call home but also serves as a solid financial investment. With the potential to build equity and enjoy tax deductions, homeownership provides long-term benefits. In this comprehensive guide, we will walk you through the process of buying a home, empowering you with the knowledge and understanding you need to navigate the real estate market successfully.
Is NOW the right time?
Buying a home can often be more cost-effective than renting, especially considering factors such as increasing prices and interest rates. It's crucial to assess your financial situation and determine if the timing is right for you to enter the real estate market. By understanding the impact of interest rates on your purchasing power, you can make informed decisions and potentially secure a more favorable mortgage rate to maximize your budget and affordability.
Define your Goals, Understand your Options, and Create an Action Plan.
When considering buying a home, it's important to align your personal motivations with your financial readiness. Take the time to identify the type of home, location, and features that meet your needs and preferences. Conduct thorough research on available housing options and develop a realistic timeline and action plan that accommodates your goals and responsibilities. Partnering with a knowledgeable real estate professional from Nick McLean Real Estate Group can provide invaluable guidance, helping you set achievable objectives and offering expert advice throughout the process.
Contact a real estate professional.
Take the first step towards buying your dream home by contacting us at Nick McLean Real Estate Group. Our team of experienced agents is here to guide you through the home buying process, leveraging our local market knowledge and years of expertise. Whether you're seeking opportunities or need assistance with potential challenges, we are dedicated to helping you make informed decisions and achieve your real estate goals. Give us a call today to get started on your home buying journey.
Get pre-approval for a loan.
Ensure a smooth home buying process by getting pre-approved for a loan with our assistance at Nick McLean Real Estate Group. By going through the pre-approval process, you'll gain a clear understanding of the loan amount you're eligible for based on your financial history. This not only helps you determine your budget but also enhances your credibility as a serious buyer, making your offers more attractive to sellers. Let us guide you through the pre-approval process to empower you with the knowledge and confidence to make informed decisions in your home buying journey.
Find THE ONE.
In your home buying journey, it's important to create a list of "wants" and "needs" to guide your search. This helps you differentiate between essential features and desirable ones, narrowing down your options. With our expertise at Nick McLean Real Estate Group, we recommend viewing homes in person alongside our real estate professionals, who have extensive experience and a keen eye for matching buyers with their ideal homes. Drawing from our 10+ years of industry knowledge, we've assisted numerous buyers in finding their dream homes and can provide valuable insights throughout the process. Let us help you make informed decisions and navigate the market with confidence.
Make an offer and negotiate with the seller.
When you're ready to make an offer on a home, our team at Nick McLean Real Estate Group is here to guide you through the process. We will assist you in creating a comprehensive contract that covers all the necessary details, including the sales price, desired closing and possession dates, and your down payment amount. Our experienced agents will ensure that your offer aligns with your intentions and will address any questions you may have. Once your offer is prepared, we will present it to the seller or their representative. Throughout negotiations, we will leverage our expertise to help you secure favorable terms, including sales price, closing costs, repairs, and appraisal issues. Count on us to advocate for your interests and increase the likelihood of securing the home you desire.
Closing the deal.
Once your offer is accepted, the next step is to finalize the details of your mortgage in order to proceed with the closing process. Your lender will work with you to determine the specific terms of your mortgage, including your down payment, interest schedule, and interest rate. Throughout this process, your agent from Nick McLean Real Estate Group will provide valuable guidance and support.
To complete the ownership transfer and officially take possession of your new home, a few final steps need to be taken. A title search will be conducted by a title company to ensure there are no claims or restrictions on the property. It is also essential to purchase title insurance for protection. Prior to closing, you'll have the opportunity to do a final walkthrough to ensure the home is in the expected condition and that everything agreed upon in the sale is accounted for.
The closing, also known as the settlement, is the final step where you will meet with your lawyer, real estate agent, or escrow agent to review and sign all the necessary paperwork. This includes addressing closing costs such as transfer taxes, legal fees, and property adjustments. At the end of the closing, you will receive the title, copies of relevant documents, and most importantly, the keys to your new home!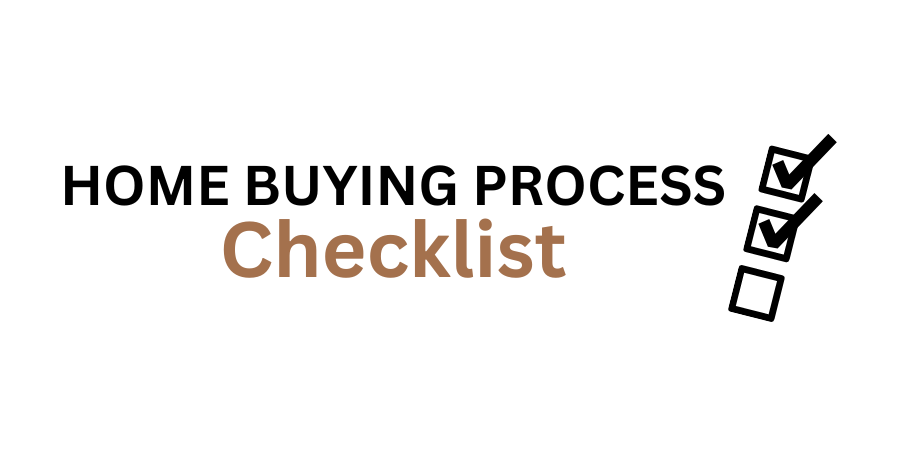 Buying a house involves a series of steps that, when followed diligently, can lead to a smoother and more successful home buying experience. By being prepared and informed, you can navigate the process with confidence. Here are the key steps that will guide you towards owning your dream home in no time.

Before beginning your search for a real estate agent, it's essential to define your home buying criteria. Consider factors such as the desired size of the house, the number of bedrooms and bathrooms, preferred location, and any additional features or amenities you require or desire.
To stay organized and communicate your preferences effectively, create a home buying checklist with separate sections for your needs and wants. This checklist will serve as a valuable resource when discussing your requirements with your real estate agent, ensuring they can help you find properties that align with your priorities.

When initiating your interaction with a real estate agent, it's advisable to first determine your budget. To achieve this, it's recommended to conduct thorough research on various mortgage loan options, including conventional loans and exclusive offers from the Federal Housing Finance Agency.
The objective is to obtain a rough estimate of the purchase price that aligns with your monthly mortgage payment capacity. It's crucial to break down this estimate into two components: the monthly mortgage payment and the required down payment. Additionally, it's important to consider additional expenses such as closing costs, home inspection fees, property taxes, mortgage insurance, and homeowners' insurance.

In addition, it's advisable to seek out a reputable real estate lender. Explore different options for your home loan and carefully compare interest rates offered by various mortgage lenders. Keep in mind that your credit report, income, and other factors will play a role in determining the amount of house you can afford. It's recommended to aim for a mortgage pre-approval from your loan officer before proceeding to make an offer on your desired property. This pre-approval will provide you with a clear understanding of your purchasing power and increase your credibility as a potential buyer.

Real estate agents play a vital role in the entire home buying process, making it essential to select an agent with experience in your specific area and the type of property you prefer. During your initial meeting with the real estate agent, be sure to communicate your budget and provide them with the home buying checklist outlining the necessary features and desired amenities.
By informing the agent about your budget, you ensure that they focus on properties within your financial range. Sharing your checklist helps them understand your specific requirements, enabling them to tailor their search and provide you with suitable options that align with your needs and preferences.

Your chosen real estate agent will serve as a valuable asset in the search for your new home. Leveraging their industry connections and comprehensive market knowledge, they will actively assist you in finding properties that align with your preferences. Relying on their expertise will significantly streamline the house hunting process, saving you a substantial amount of time and effort. By tapping into their resources, you can benefit from a more efficient and targeted search, increasing the likelihood of finding your ideal home in a timely manner.

Once you have identified the right property, your real estate agent will provide valuable guidance throughout the offer-making process, assisting you in determining an appropriate offer amount. They will also review your checklist, including essential documents such as your pre-approval letter for mortgage loans obtained from your loan officer.
From there, your real estate agent will continue to support and advise you through various stages, including securing the deposit in an escrow account, navigating the closing process, and liaising with your loan officer or mortgage lenders. Their expertise will ensure a seamless experience, ultimately leading you to the exciting prospect of moving into your newly purchased home.
Allow the expertise of Nick McLean Real Estate Group to be your guide throughout the entire real estate transaction, including the search for your new home. We are dedicated to answering your questions and facilitating a smooth and successful home buying process.
Let's Get Started with Buying my Next Home!