Getting your home ready for the market is a crucial step in the selling process. By following essential tips and strategies, you can enhance your home's appeal, attract potential buyers, and increase your chances of a successful sale. From decluttering and depersonalizing to making necessary repairs and showcasing the best features, our guide provides valuable insights to help you prepare your home and make a lasting impression on prospective buyers. Trust our expertise to guide you through this important stage, ensuring your home shines in the competitive real estate market.
---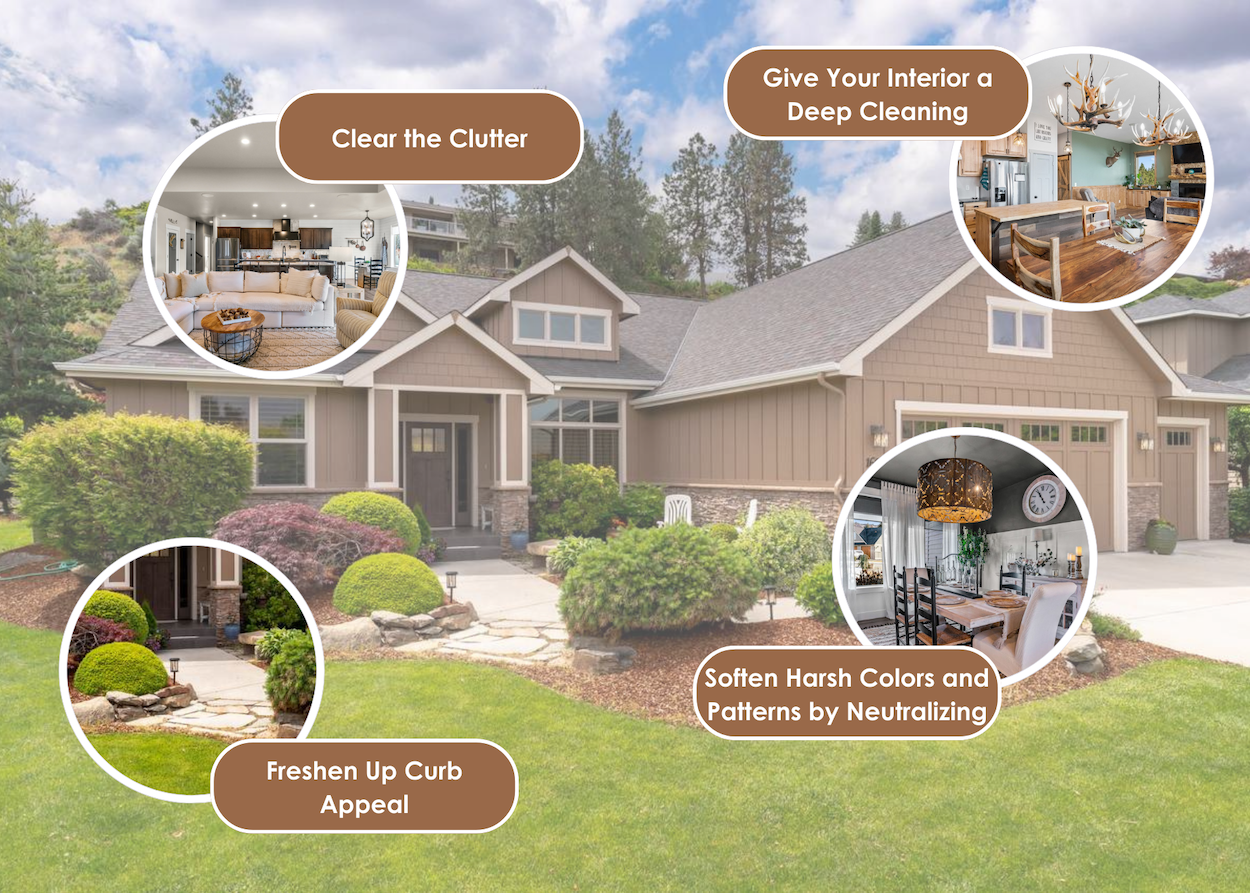 1. First Impressions are Lasting Impressions
Creating a welcoming and inviting atmosphere for potential buyers is essential when selling a house. At Nick McLean Real Estate Group, we understand the importance of prepping your home to be the dream home buyers are seeking. Our experienced agents are here to assist sellers in evaluating their homes and devising a comprehensive plan to impress buyers effortlessly. With our expert guidance, you'll have the tools and strategies to showcase your property's best features and create a lasting impression that turns potential buyers into enthusiastic homeowners.
Get Ahead with a Pre-Listing Home Inspection
At Nick McLean Real Estate Group, we provide the valuable service of a pre-listing home inspection to homeowners prior to listing their property for sale. This proactive approach offers numerous benefits to sellers. By conducting a pre-listing inspection, any potential issues that may arise during a buyer's inspection can be identified and addressed beforehand. This not only streamlines the closing process but also eliminates unnecessary complications and ensures a smoother transaction for all parties involved. Trust our experienced agents to help you navigate the selling process with confidence and peace of mind.
2. Freshen Up Your Curb Appeal
Transforming the exterior of your home into an inviting space doesn't require major renovations. With a few simple projects and thoughtful landscaping, you can create a clean and natural ambiance that will captivate potential buyers. Enhance your curb appeal by adding a touch of color with a vibrant floral wreath on the front door, instantly making buyers feel welcomed and drawn to explore further. Let us help you make a memorable first impression with your home's exterior, setting the stage for a positive and inviting showing experience.
3. Give Your Interior a Deep Cleaning
Preparing for a showing entails giving your home a thorough top-to-bottom cleaning to present a fresh and inviting atmosphere to potential buyers. Take this opportunity to showcase your home in its best light and create a favorable impression. As you clean, make note of any areas that require minor repairs, such as leaky faucets or loose doorknobs, ensuring your home is in impeccable condition for showings. Our team is here to guide you through the process, ensuring every detail is attended to and your home is ready to impress.
4. Clear the Clutter
To showcase your home in its best light, it's crucial to minimize clutter and create a clean, inviting space that allows potential buyers to envision themselves living there. Start by removing personal items from surfaces such as the fridge, giving a clean and minimal look to the space. Take a tour of your home and identify commonly used areas that tend to become overcrowded, decluttering these spots by reducing unnecessary knickknacks. Additionally, in smaller rooms, removing excess furniture can create an illusion of more space, making the room feel larger and more appealing to buyers. Let us assist you in preparing your home for showings, ensuring it presents a clutter-free and spacious environment that leaves a lasting impression.
5. Soften Harsh Colors and Patterns by Neutralizing
Creating a neutral color palette throughout your home can have a significant impact on presenting a cohesive and inviting space to potential buyers. By neutralizing each room to one color palette, you eliminate distractions from busy patterns and multiple colors, allowing buyers to focus on the overall appeal of the house. Consider removing colorful throw pillows and opting for a more neutral approach, directing attention towards the home's features. In bathrooms, display towels in one color and choose a neutral shower curtain to maintain a clean and harmonious aesthetic. Our team can provide further guidance on creating a unified color scheme that enhances the appeal of your home during showings.
6. Adding Value to Your Home
Before listing your home on the market, it's crucial to consult with a professional real estate agent to determine its value and identify worthwhile updates that will attract buyers. When considering updates, prioritize functional improvements over purely cosmetic ones and opt for neutral choices over unusual or exotic ones, as they tend to have broader appeal.
Some common updates to consider include increasing usable space (such as adding an extra bathroom or upgrading the kitchen), brightening rooms with light-colored paint and floor coverings, incorporating elements that connect your home to the outdoors (such as French doors to a patio or garden), and enhancing privacy and security through fencing and landscaping. For a standout touch, consider adding features like a wall-mounted flat-screen TV or a wine cooler, which can make your home more appealing without breaking the bank. Trust our expertise to guide you in making the right updates that will maximize your home's market appeal.
With the support of a Nick McLean Real Estate Group agent, you'll have access to our network of trusted local vendors who can assist you in efficiently preparing your home for the market. Simplifying your home by removing unnecessary clutter and personal items allows potential buyers to envision themselves living in the space, igniting their imagination. Our team is dedicated to helping you create an environment that captivates buyers and showcases the true potential of your house, enabling a seamless transition for them to make it their new home.
Let us guide you in streamlining your home's presentation, maximizing its appeal to prospective buyers.